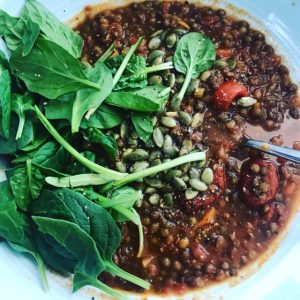 Lentil Soup
Fiber rich, gut healthy lentils serve up some serious plant based delish in this beauty of a warming soup. Eating for good health has never been so easy nor satisfying. I like to make this on a Sunday night and eat all week.
2 tbsp olive oil
2 cloves garlic (diced)
1 onion (diced)
2 carrots (diced)
2 stalks of celery (diced)
1 cup cherry tomatoes (halved0
2 cups brown, green or black lentils (rinsed)
5 cups bone broth
3 tbsp cumin
1 tbsp coriander powder
1 cup tomatoes (diced)
2 tsp salt (pink is my favourite)
Garnish (optional)


1 tbsp pumpkin seeds
1 cup spinach or arugula or other delicate lettuce
1 tbsp cilantro (chopped)

Instructions
Sautee onions and garlic in olive oil until translucent. Salt and pepper liberally.

Add carrots and celery and cook 5 minutes. Add cherry tomatoes. Stir occasionally.
Add rinsed lentils. Mix.
Add bone or veggie broth. (I think bone broth really adds a very deep and decadent flavour here.
Cover and simmer for 35 minutes.
Add tomatoes, cumin, coriander powder.
Cover and simmer another 15 minutes.
Salt and pepper to taste
Ladle into bowl and garnish with green leafies and pumpkin seeds.